Thanksgiving Service



All filled with a thanksgiving heart, over 1,000 guests, teachers, alumnae and students attended the service at the Silcocks' Hall on 25 March 2000. A PowerPoint show (百年回顧) was presented to give us a review of the history of Ying Wa over the past hundred years.

In her enlightening speech (百年樹人百載恩), Rev. Lee Ching Chee shared with us the true meaning of Thanksgiving and the Spirit of Ying Wa. The Service closed with a Dedication Ceremony of the Time-Capsule.

Centenary Dinner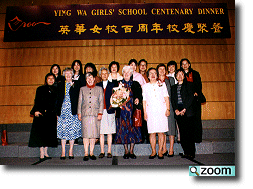 On 26 March 2000, over 1700 people gathered at the Banquet Hall of the Hong Kong Convention & Exhibition Centre enjoying a wonderful reunion evening with classmates and teachers. Quite a number came from overseas for this occasion.

The highlight of the eveining was a speech given by our guest of honour, Ms Evelyn Jenkins, former Principal of Ying Wa (1967-1972), followed by the cutting of the Centenary Cake! Moreover, there were a performance by the Alumnae Choir, games and lucky draw.

Ying Wa School History Book [ details ]


This book gives you an explicit record of the founding of the school, the changes and development throughout the hundred years. It is bilingual, comprising full colour pages with illustrations.

The production of the School History Book is regarded as a contribution of the Alumnae Association to commemorate the School Centenary.

Centenary Postcard




An elegant postcard pack of four is now on sale at a special discount. Funds raised will contribute the production cost of the School History Book. All surplus will go to the School Improvement Fund. Your generous support will be much appreciated.