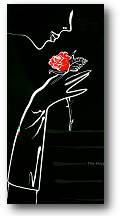 Date: 11 July 2000 (Tuesday)
Venue: Lyric Theatre of The Hong Kong Academy for Performing Arts
Around 1,000 people, including guests, alumnae, teachers & students had an enjoyable evening watching the marvellous performances by students and alumnae.

The School Recorder Band played two numbers, namely
"Intermezzo from Cavalleria Rusticana"
& "Grand March from Aida".
Wearing youthful costume and with a cheerful smile, members of the Junior Choir sang the
songs of
"Some enchanted evening"
& "Chattanooga Choo Choo".
The Alumnae Choir started the practice since April and offered their best performance in the concert.

The songs sung were
"" & "For the beauty of the earth".
Meet Miss Phyllis S. C. Lau (in the middle), the Consultant Director of the Musical "My Fair Lady".

Being a dedicated alumna of Ying Wa, Phyllis volunteered to offer her professional advice for the show.

The Musical "My Fair Lady" was a huge success.

Look at the smiling faces of the Musical Team!

.