Founder's Day
Founder's Day
Founder's Day Service, AGM & Dinner on 24 March 2018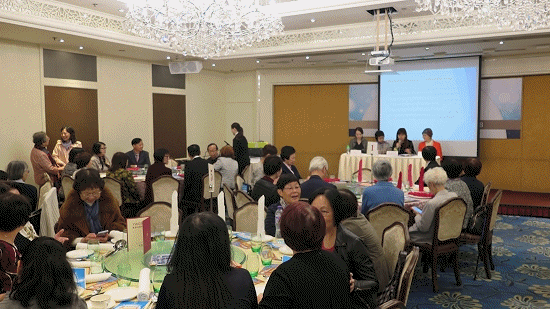 Around 300 alumnae, teachers & guests attended the annual function at Jade Garden, Causeway. Participants were informed of the latest school redevelopment news. Photos are available for browsing from the Facebook of YWGSAA!
---
Founder's Day Service cum AGM 2017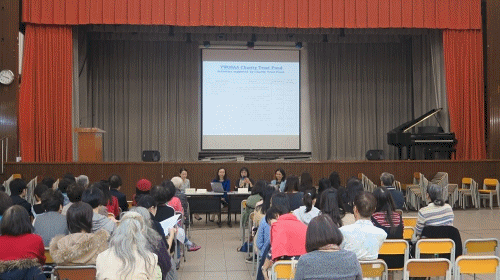 Alumnae gathered at the School Hall, YWGS (decanting site) for the Founder's Day Service and AGM. The new Council was formed and 17 members started to take up the post right after the Meeting. Though there wasn't a Founder's Day Dinner this year, attendees stayed behind and chitchatted during the tea reception.
---
Founder's Day 2016 cum Spring Bazaar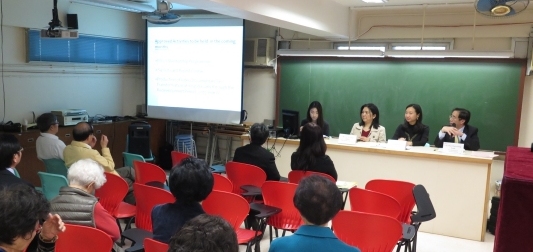 The Founder's Day Service was held at 4pm followed by the AGM.
---
Founder's Day 2015 - 115th Anniversary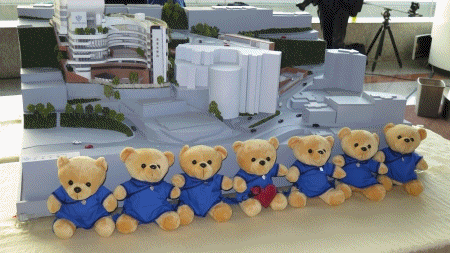 Guests, teachers, alumnae, parents and friends of Ying Wa filled up 150 tables in the Grand Hall, L3, Hong Kong Convention and Exhibition Centre. People started to arrive after 5:30pm to queue up for the purchase of souvenirs and taking photos with teachers and classmates.
The dinner programme started at around 7pm with school hymn and prayer. Mr YEUNG Yun Hung, Kevin, JP, the Under Secretary for Education and Mrs Cherry TSE, JP, former Permanent Secretary for Education, were our guests of honour. Highlights of the evening included: address by Mr Yeung, alumnae choir performance, redevelopment updates, DVD trailer and promotional performance of the musical Nightingale.
Last but not least, there was a short farewell session for Mrs Ruth Lee, who will retire in August 2015. Representatives from board of directors, overseas alumnae and SA expressed their gratitude towards Mrs Lee's contribution to YWGS over the 14 years.
[ album ]

YouTube Videos [ Singing of School Song ] [ Word of thanks from Mrs Ruth Lee ]
---
Founder's Day Service, AGM & Dinner 2014
This annual function was held on 21 March 2014 (Friday) at CESSOM (香港海關高級官員會所).
Participants had an enjoyable evening meeting former teachers and classmates. Programme included the AGM, Founder's Day Service, School Redevelopment Updates & Signing Ceremony, Dinner, School News and Dance Performance.
[ photo album ]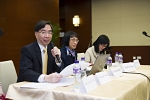 AGM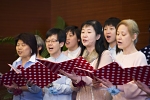 Alumnae Choir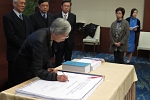 Signing Ceremony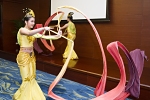 Dance Performance
---
Founder's Day Service & Dinner 2013
The annual event was held on 22 March 2013 (Friday) at Craigengower Cricket Club, Hong Kong. Programme of the evening included the AGM, Founder's Day Service and Dinner.

Due to limited space of the venue, only 15 tables were accommodated. Lovely to see a table of young graduates among us.

Dr Rebecca Chiu delivered a brief update on the school redevelopment project regarding the work progress and fund-raising effort.

During the dinner, a DVD Trailer of the video documentary – "Transformation" was shown. Ms Mabel Cheung (director) and Ms Eunice Wong (producer) shared the ancedotes of the video shooting process. They also appealed for transcription support and received instant response from the floor!
A variety of souvenirs were on sale, including YW bears (small & big) , USB drive, 家長通勝, memo pad and files.
[ photo album ]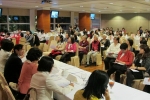 AGM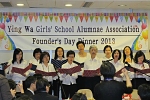 Alumnae Choir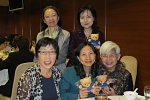 Group Photo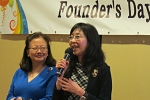 Mabel & Eunice
---
Phototaking Day cum AGM & Founder's Day 2012
The photo-taking day was held on 31 March (Sat), 2-5 pm. Besides the Founder's Day Service and AGM at 2:30 - 4 pm, various activities were organised on the same day.
Highlight of this full day event was a birthday party held in the Silcocks Hall to celebrate the 80th birthday of Rev. C.C.LEE. A total of 107 participants and 8 guests enjoyed the event.
Another popular activity was the morning classes on making teddy bears in school uniforms.
Many alumnae arrived early to buy the YW teddy bears and miscellaneous souvenirs. Moreover, there was an exhibition of Miss Pak's students' work. Many alumnae were delighted to meet their Art teacher again!
[ photo album ]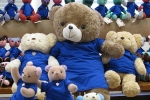 YW Bears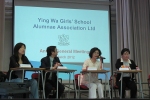 AGM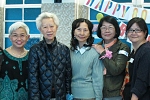 Happy Birthday to CC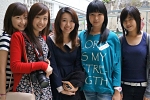 Smiling faces
---
Homecoming Day cum Founder's Day Service, AGM & Dinner
A list of activities was held as scheduled on 26 March 2011 (Sat). At around 2 pm in the afternoon, alumnae started to arrive and they roamed around the school building to recapture their happy years in YW by going from Robinson block (1967) to another, visiting classrooms and special rooms.
While many came with classmates, some brought their husband and children along. The peak hour was at 4- 5 pm, the tea gathering session. Alumnae were delighted to meet their former teachers again. Souvenirs and brick coupons were on sale and the YW bears were sold out within two hours!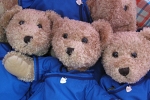 YW Bears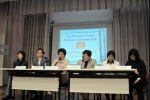 AGM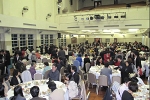 Dinner at Silcocks Hall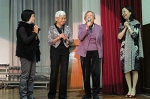 Miss Yau & Ms Kwan
Thanksgiving Service, AGM and a Buffet Dinner were held later in the evening till 9:30 pm. During the banquet, we celebrated the 111th anniversary of Ying Wa and offered our special greetings to Miss Kwan Yeuk Laan and Miss Yau Ping Wai for their forthcoming birthdays.

[ photo album ]
---